Bill Sterns Sports Newsreel - Old Time Radio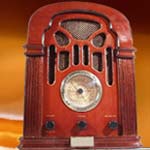 Bill Stern was an inventor, an original in sports broadcasting. He was the first person to do live remotes of sporting events, and the first to do a live telecast of a baseball game. In 1937, NBC hired him to host The Colgate Sports Newsreel and Friday night boxing on radio.
Stern was in a bad car accident in 1935, which resulted in one of his legs having to be amputated. Unfortunately, he became addicted to painkillers, which caused him many health problems in his later years. He was involved in a few controversies during his career, including reporting that a newspaper had reported that the St. Louis Browns cut a deal to lose its first World Series. He later apologized and expressed regret. Stern embroiled himself in the great controversial debate over which baseball player invented the curveball.
Stern's influence on the field of sports broadcasting is easily recognized on the radio newsreels. He blended a fast-talking vaudevillian style with theatrical pauses, and he honed a flair for punctuating particular words with perfect timing to achieve full over-the-top effect. Listeners felt like they were there in the stadiums, at baseball fields, and at ringside for boxing matches. He told incredible personal interest stories about athletes, and welcomed celebrities to his broadcasts, The Colgate Shave Cream Sports Newsreel , including Lena Horne, Henny Youngman, baseball great Lou Gehrig, Frank Sinatra, Connie Mack, George Raft, Hoagy Carmichael, Casey Stengel, and many more.

There are 121 shows in our collection!
Date Aired
Guest Harry James
September 12, 1942
Guest Bill Welshel
October 24, 1942
Guest Madeline Carroll
April 17, 1943
Guest Dunninger
September 22, 1944
Guest Ellery Queen
September 1, 1944
Guest Constance Bennett
March 17, 1944
Guest Charlie Spivak
August 31, 1945
Guest Danny Kaye
September 6, 1945
Guest Brace Beemer
September 14, 1945
Guest Pat Obrien
October 5, 1945
Guest Tommy Dorsey
November 9, 1945
Guest Frank Sinatra
November 23, 1945
Guest Joe Louis
December 7, 1945
Guest Elsa Maxwell
December 14, 1945
Guest Eddie Rickenbacker
August 17, 1945
Guest Joan Edwards
August 3, 1945
Guest Byron Nelson
July 27, 1945
Guest Lena Horne
April 6, 1945
Guest Larry Mcphail
April 20, 1945
Guest Henny Youngman
April 27, 1945
Guest Kathleen Windsor
June 15, 1945
Guest Alan Jones
June 22, 1945
HV Kaltenborne Subs
July 6, 1945
HV Kaltenborne Subs
July 13, 1945
Guest Ezra Stone
December 21, 1945
AND MANY MORE



Other Vintage Radio You'll Like:
Try these other Old Time Radio Shows out for size!